Call 9848966035, 8247686378 For Borewells In LB Nagar
Borewell drilling is considered as the most reliable method of mitigating the scarcity of water in regions.  In Hyderabad, there are many regions both in the urban and rural area. Where water scarcity is still a big problem that is being not eradicated till now.
Borewell Drilling Services in Hyderabad can give you a solution in this circumstance. Sapthagiri borewells in Hyderabad are the reputed Borewell Contractors in Hyderabad. Although, We are  famous for using scientific methods of drilling along with meeting customer demands. Anyhow, Borewell is one of the important factors in prior to construction of any site or plantation of any kind of crops.
INSTALLATION OF  TUBEWELL PUMPS:
Water Well Drilling:
If you're looking for an experienced, professional company to drill a well, you've come to the right place!
Well Spring.  Spring is the water well drilling company you want to handle your drilling. With years of experience, and a top name in the business.
Submersible Pump:
A submersible pump (or sub pump, electric submersible pump (ESP)) is a device which has a hermetically sealed motor close-coupled to the pump body.  The main advantage of this type of pump is that it prevents pump cavitation.
Land Levelling:
It consists of preparing the irrigation plot in a way that no high and/or low spots disturb the uniform distribution of irrigation water on the field, and ensuring the optimal slope for water movement across a field when irrigated.
Aspects of determining the cost of borewell drilling:
At First, Cost per feet
Second, Cost of the casing pipe per feet
Third, Cost of Installation of casing pipe and drilling per feet
Last but not least,  Transportation charges of the rig
Finally, Flushing the bore well per hour.
What Do Sapthagiri Borewells In Hyderabad Survey: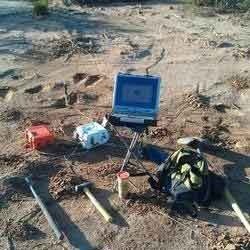 Ground Water Survey:
We have our own ways of ground water surveying and our professionals give their best in the area to locate the ground water using copper rods, pendulums and other apparatus.
Earthing:
We provide earthing systems that are electrically conductive. This is  to avoid dangers associated with fault currents in the city.  Good earthing saves our lives as well as land.
Pump Installation:
Pump installation should be done with care and we deal with all types of water pumps such as Monoblock, Submersible, Open well submersible mono block and many more.
Our Address:
Contact Time:     10Am to 6Pm.
Phone Number:  9848966035, 8247686378
Contact: ashokreddyanugu8@gmail.com
Summary
Service Type
Provider Name
Area
Description
best borewell services in lb nagar